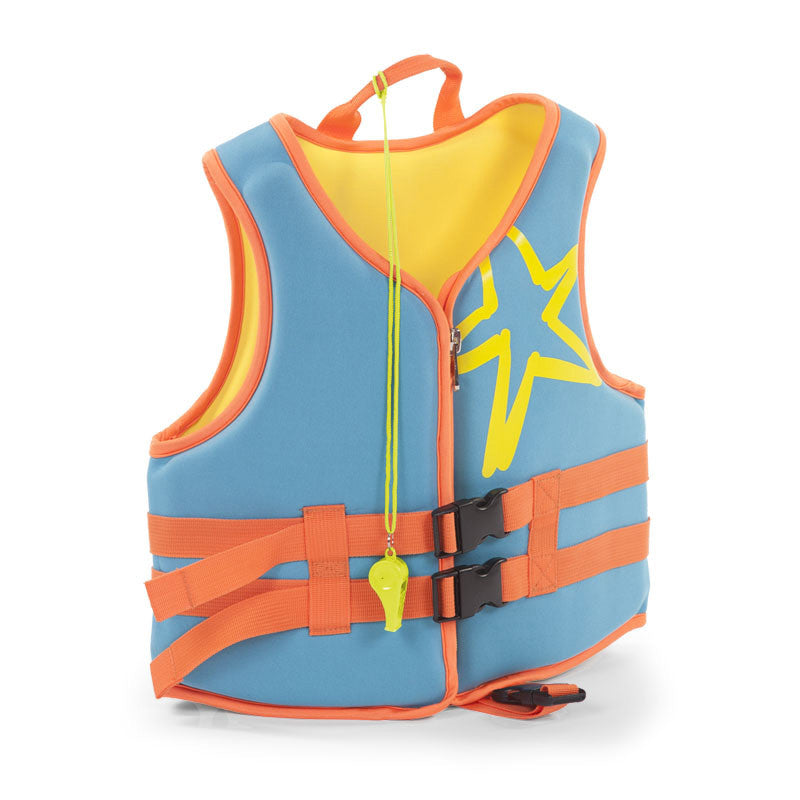 Childhome
Childhome Neoprene Aqua Blue Swim Jacket
The neoprene life jacket makes sure that your toddler is able to play safely in the water. This colourful life jacket can be used to let your child gain more confidence in the water or to teach him how to swim. Your child will enjoy optimal freedom of movement, because the arms can move freely. The life jacket is for children between the ages of 3 and 6 years old with a weight of 18-30kg.
A large zipper makes the life jacket easy to zip up or unzip, even after a salty swim in the sea. A belt between the legs ad two tension belts round the belly make sure that the life jacket does not move. The life jacket is filled with a special foam that doesn't hold water and that floats.
Due to the colourful print of a large yellow star, your child will wear its vest without complaining. You can enjoy a visit to the seaside or an afternoon at the pool with the family worry free.
Life jacket in Aqua Blue on the outside, yellow on the inside and orange detailing.
ATTENTION: This life jacket is suited for children that are already used to being in the water. This life jacket does not replace parent of adult supervision.
Dimensions: 35 x 35 x 5 cm
Composition: Neoprene - PE foam - PP
Maintenance: Hand wash with cold water