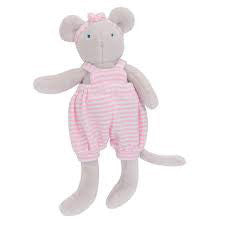 Recommended age: Birth +
Lila the mouse embodies all things pretty and pink. Lila is made from soft cream velour and her facial features are embroidered making her safe for small mouths.
Mini Lila is dressed in pink and white striped overalls with cross over back and a little hole for her tail. A matching headband completes her ensemble!
Soft toys are great for little ones because they are easy to grasp and hold onto. They often become a much loved companion and help a child self settle. As the child grows, the companion may be used in role play.
Care instructions : Machine washable on a delicate cycle
Size : Approx. 15 cm.